Content marketing is a strategic marketing approach focused on creating and distributing valuable, relevant, and consistent content to attract and retain a clearly defined audience — and, ultimately, to drive profitable customer action.
The internet-savvy consumer of today, who spends a great deal of time online, creates opportunities for brands to tap into their prospects' mind by sharing compelling stories and adding value.
Contrary to the past, high-decibel sales pitches are no longer effective in converting prospects into buyers.
Today, the standard consumer is less prone to impulsive buy your product. There needs to be useful content marketing strategy and knowledge that aids their decision making and solves their problems.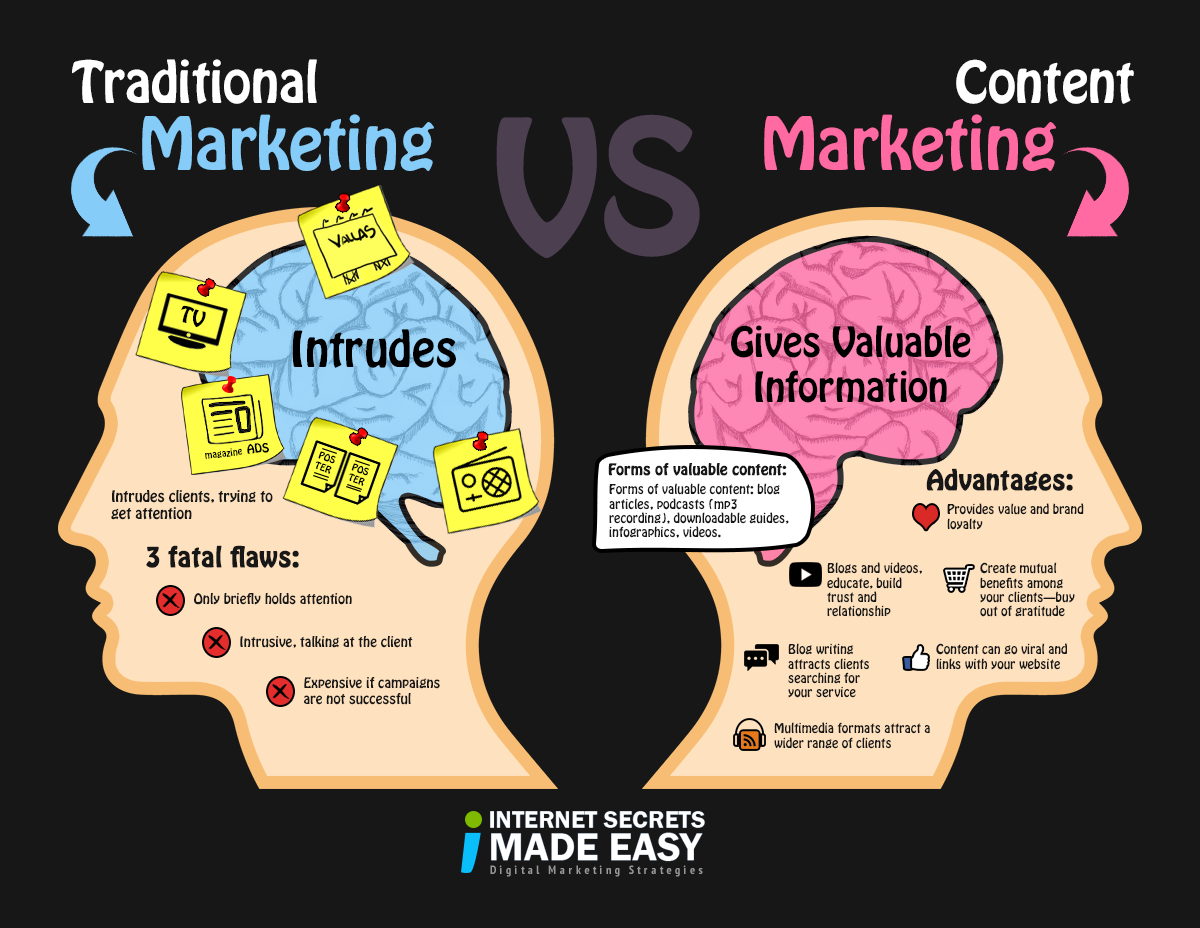 Rather than interrupting prospects with ads, content marketing utilizes content to empower the prospect with relevant and useful information, helping to establish trust and nurture an initial relationship.
As the consumer interacts with content that is a solution to their needs, they tend to develop a personal connection to the brand.
When you create high quality content, it can help brands - both large and small - reap long-term benefits and drive profitable customer behaviours.
Why is Content Marketing Such a Big Deal?
According to data released by research firm Zenith in 2017, people in North America spent a whopping 612.4 minutes per day consuming different forms of media.
So, what exactly keeps people glued to the Internet?
From practical hacks to inspiring content to food recipes to cute animal gifs to viral music videos, there is tons of content people can consume as a part of their routine.
Fractl and BuzzStream recently conducted a joint study titled, "The Generational Content Gap" which offered plenty of insights into the digital content consumption patterns of the average consumer today.
Turns out most people spend reading blogs (Buzzfeed, anyone?), interacting with images and posting comments among many other online content consumption habits.
The increasing content consumption has motivated many brands to invest in content creation and distribution channels.
A CMI-MarketingProfs joint study of content marketing trends in 2016 found creating engaging content was the first priority for content marketers.
According to the latest B2B Content Marketing Study, 91% of the organizations said they were super committed to content marketing because it works for them.
Benefits of Content Marketing
Content marketing is a long process, meaning it takes time for a brand to create consistently valuable content for its consumers over a period of time before it can start to see any benefits.
While that might sound like a downer to some, you would be surprised to see the multiple benefits content marketing offers in the process.
Generates Search Engine Traffic
Creates Natural Engagement
Boosts Sales
Builds Brand Reputation and Loyalty
Promotes Domain Authority
Generates Search Engine Traffic
When a brand uses a blog as its primary content marketing channel to create insightful content, it tends to rank well on search engines and drive search traffic.
Popular content marketing brands such as Hubspot, Kissmetrics, Buffer, CMI and Search Engine Journal stand testimony to this fact.
According to Hubspot, it was able to grow its inbound traffic by a staggering 300% in just six months by creating high-value content including evergreen content, product guides, and case studies.
Creates Natural Engagement
Content marketing isn't just about creating blog posts even as many brands rely mostly on their search traffic. Brands that invest in social media channels such as Facebook, Instagram and Twitter tend to create natural engagement when the content they share resonates with their audience.
From Wix to Airbnb to Apple, here are 24 brands who have achieved inspiring feats in their social media campaign to generate enviable engagement.
Boosts Sales
What truly makes content marketing unique is its ability to generate marketing-qualified leads organically. With the right kind of content, brands are able to educate prospects about their products and how they help improve their life.
By nurturing the marketing-qualified leads with focused content, brands help move interested prospects into repeat customers, just like that. In short, content marketing is currently the most effective tactic to boost sales throughout the marketing funnel.
According to HubSpot, a Fractl client saw a 2,956% ROI for a single large-scale content marketing campaign.
Builds Brand Reputation and Loyalty
In the noisy world of digital marketing, getting heard isn't always easy. Content marketing presents a unique opportunity for brands to carve a niche and stand out.
With consistency in messaging, brands create a unique identity for their business and build their reputation among consumers.
Promotes Domain Authority
Developing high-quality content around a specific niche gradually builds domain expertise for the brand over a period of time.
By sharing user-friendly content in a variety of formats across popular social media channels, brands can eventually become the go-to source for credible information which boosts domain authority.
When brands acquire domain authority in their field of specialization, they become the favourite source for other players. This authority helps brands attracts quality links and citations from trusted sources, which propels their search engine ranking even further.
Brands like Moz and HubSpot have this natural advantage of being the go-to source for many inbound marketers.
The Evolution of Content Marketing
According to Neil Patel, content marketing is all about storytelling and it has existed for as long as humans could speak stories.
Indeed, storytelling is the cornerstone of content marketing. Brands that incorporate stories into their content marketing tend to build a loyal audience.
However, the popularity of modern content marketing can be attributed to the emergence of the Internet, especially the rapid growth in the smartphone usage and social media platforms.
Until 2007, content marketing wasn't really such a popular practice among the online marketers.
The growth in the interactive online platforms such as YouTube, Facebook, Twitter and Instagram encourage Internet marketers to create customized content for specific channels, which went on to become a popular practice among the online marketers across the world.
As Internet consumption grew and smartphone technologies become more accessible, consumers spent more time online.
According to a research forecast by Technavio, the content marketing industry will be worth a mind-boggling $412 billion by 2021.
From blogging to being CTA-focused to following a topic cluster model, content marketing has had an interesting journey so far.
Blogging
Back in 2006, blogging was a primary source of content promotion for many businesses. Online marketers would write blog posts to educate their visitors about products and services they were selling.
The blog posts were relatively smaller and limited to textual content.
However, blogging practices become more interactive with the emergence of Facebook, Twitter, and Tumblr towards 2008.
Online businesses started integrating their blogging strategies into their social media marketing efforts driving qualified leads.
CTA Focused
Even as business blogging became a thing towards 2009, it was still limited to simply sharing information and sharing product updates with the audience.
Many businesses still lack the focus required to turn visitors into subscribers.
Today, content marketers use a variety of content formats catering to a wide range of audiences across diverse platforms.
Moreover, the present form of content marketing is more CTA-focused, meaning content marketers tailor their content to include to Call to Action based on their specific business goals.
From subscription forms to downloadable eBook, different content marketers use different lead magnets to capture leads.
Pillar Content and Topic Cluster Model
As search engines such as Google Search are slowing moving to AI (Artificial Intelligence) and using machine learning algorithms for delivering better search results, content marketers are slowing waking up to the benefits of incorporating innovative content models such as pillar content and topic clusters.
The topic cluster model, essentially, is a method of creating a hub for valuable content in a website linked to multiple content pages (known as topic clusters).
According to HubSpot, the topic cluster model, when done right, can help a website present itself as an authority to search engines, thereby boosting its ranking on the SERPs.
Apart from turning your website into a hub for high-quality content resources, the topic cluster model results in better linking architecture and greater SEO value.
Final Thoughts
Content marketing is all about offering value to your followers, visitors and customers alike. It's not about asking your prospects why you're better than the competition — it's about showing that you care about your prospects and committed to delighting them with the knowledge they need to make better purchasing decisions.
In an online marketing ecosystem that is already teeming with clickbaity content, brands have real opportunities to offer value to their prospects, forge emotional bonding and establish themselves as a thought influencer in their niche.
That's where content marketing helps.