Success in B2B marketing often boils down to staying current and knowing the best approach to influence your potential customers. While conventional marketing methods are still being used by many, businesses in the tech industry are adopting modern marketing technologies to boost engagement, build brands, and generate qualified leads. Moreover, the paradigm shift in consumers behaviors ushered in by mobile revolution has given rise to many bleeding-edge marketing trends for B2B marketers.
Let's take a look at some of the popular B2B marketing trends and why you should embrace them sooner rather than later.
Marketing Automation
Marketing automation is easily the most effective content marketing tool at the moment, and it's growing at an astonishing rate.
According to the fourth annual "State of Marketing" report by Salesforce, 67% of marketing leaders currently use a marketing automation platform. Moreover, an additional 21% of marketing leaders plan to embrace a marketing automation platform over the next two years.
So, why is it so popular among the B2B content marketers?
For B2B businesses, marketing is a complex game. It's not only time consuming but fraught with the risk of affecting ROI as well. On the top of it, the changing consumer dynamics mean the B2B marketers should ditch the traditional marketing methods, and embrace the new, proven process for qualified lead generation and conversion.
According to Oracle Eloqua, the #1 marketing automation platform in the world, personalized experiences can increase conversions and accelerate sales. Indeed, marketing automation platforms are designed to do just that - sending highly personalized campaigns across multiple channels including emails, display search, web, video, and mobile, and thereby, engaging with the potentially qualified lead in the buyer's journey. According to HubSpot, over 60% of marketers say converting leads is their topmost priority.
And, marketing automation has proved immensely successful for many. Andrew Jones from VB Insight says marketing automation is the best bet for B2B marketers. His research, published in 2015, found 80% of marketing automation users saw their leads increase, and 77% saw a boost in the number of conversions. If you're keen on jumping on the marketing automation platform, check out this super cool inforgraphic put together by Capterra.
Content Marketing
Content marketing has remained immensely popular over past few years, with the industry estimated to touch a staggering $300 billion by 2019.
Consider this: a mind-boggling 1440 WordPress blogs are published, and 500 hours of content uploaded to YouTube every minute. However, content marketing is hardly about the number of posts - it's about the quality of information shared with your audience, and the value they take away after spending their precious time on your digital assets.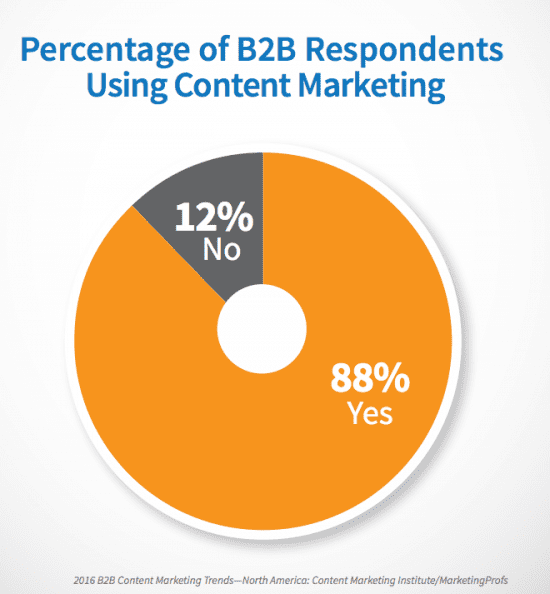 With a profound presence across social media channels, any B2B business can benefit from a content marketing strategy. This is exactly what nearly 90% of companies using content marketing believe. As a matter of fact, 43% of those companies actually increased their staffing capacity to empower their content marketing efforts. In case you're curious, this is where B2B content marketers are spending their time.
Recommended Reading: 6 Content Marketing Trends You'll See Dominating in 2017
Website Personalization
The conventional marketing wisdom holds that your home page is the proverbial front door (or landing page) which ushers in opportunities for your business. However, it's 2017, and as Cara Harshman from Optimizely puts it, "Your Homepage is Dead!"
Here's an interesting story about Website Personalization.
In 1998, in an Interview with the Washington Post, Jeff Bezos made a visionary statement:
"If we have 4.5 million customers, we shouldn't have one store. We should have 4.5 million stores."
Today, his vision is a reality. When you visit Amazon.com, it doesn't show you a regular home page, but a highly personalized homepage that knows you like your next-door neighbor. Another great example of personalized websites is Netflix which acts like your personal assistant for entertainment.
In an age when email marketing has been highly personalized to generate highly qualified leads, it's not surprising to see B2B marketers waking up to this newfound marketing platform. Personalized websites, much like a personalized newsletter, can spur a positive emotion in your visitors, which will ultimately lead to higher conversion.
So, what are your options for incorporating personalization into your website? There are SaaS products such as BrightInfo, Evergage, Granify, Marketo, Marketizator, Bunting, Optimizely and Maxymizer which make web personalization services more affordable for smaller companies.
Here's a great resource if you want to delve deep into web personalization.
Final Thoughts
The digital marketing landscape is evolving drastically, forcing B2B marketers to think out of the box, and learning more about their customers' buying journey. The more personalized and targeted is their marketing message, the more successful they're at converting leads into subscribers.
About the Author:
Susanta Sahoo is founder and chief content marketing strategist at Top League Technologies, a digital marketing start-up in Bhubaneswar, India. By offering SEO consulting services, he helps SMB's build their online presence and boost ROI. Follow him on Twitter: .