B2B companies that spend a sizeable portion of their marketing budget on PPC are constantly looking for ways to optimize their ad spend. Whether it is reducing their bounce rates, boosting their conversion rates and/or increasing their ROI, they are always looking to make improvements.
According to research conducted by Bizible, Google AdWords contributed between 10% to 40% of all B2B leads generated and revenue.
While the general rule says that B2B firms should try to keep their bounce rate lower than 60%, most content marketers fail to reach that benchmark.
When Brafton examined Google Analytics data from 181 websites, it found that the average bounce rate for B2B sites was 61.04%.
Of course, the average B2B bounce rate varies from industry to industry; however, the stats indicate an average content marketer's inability to optimize their conversion rates.
Ads vs. Post-Click Optimization
While you may have a polished ad with all the bells and whistles, your visitors invariably bounce if your landing page content isn't designed to continue that story.
Most B2B content marketers believe that optimizing their PPC efforts means visitors automatically engaging with their landing pages and then converting. However, in reality it is the focus on post-click optimization that determines the actual conversion rate of your campaign.
For the uninitiated, Post-Click Optimization is the process of optimizing a landing page post-click, in order to improve its conversation rate.
It's a critical function of the entire B2B sales funnel.
Post-click optimization helps you minimize bounce rate and maximize conversion rate by bridging the gap between your ad and a conversion.
Often times, content marketers create landing pages that are poorly optimized and don't match the expectations set in the mind of those who saw something promising in your ad.
Through post-click optimization, content marketers can fix the most common landing page mistakes and improve the messaging for a higher conversion rate.
Indeed, optimizing the post-click experience is just as critical to your conversion rate as is optimizing the ad itself.
So, if you want to optimize the post-click experience of your campaign, here are some tips for you.
How to Optimize Post-Click Experience
Your landing page may have a number of elements that you want to optimize for a positive post-click experience. However, the most important element is the copy itself. As a matter of fact, if your landing page is more relevant to your Google Ad, you earn a better Quality Score which affects the performance of your PPC campaign.
Message Matching: Be Consistent with Your Core Message
Message matching is the most critical component of any B2B post-click experience. In fact, in most cases, visitors bounce off a landing page because of the incoherence in messaging — when an ad's primary message doesn't match that of the landing page.
Message mismatch is not necessarily restricted to headline or body copy alone. It also includes the images, buttons, fonts and even the colour scheme.
For a positive post-click experience, you should make sure:
#1 — The headline in both ad, as well as landing page, are consistent in context, meaning, and promises.
#2 — The core message (primary motivation for your prospects) on the ad is highlighted on your landing page.
#3 — The message in the CTA button is highly personalized.
#4 — The images used in the ad should be more or less same in the landing page as well.
The consistency in messaging also helps in the B2B re-targeting campaign. When a visitor that bounced off your landing page sees your retargeting ad (consistent with your landing page), it rings a bell and is more likely to compel them to engage with it.
Recommended Reading: 16 of the Best Landing Page Design Examples You Need to See in 2018
Remove Distractions: Follow the 1:1 Conversion Ratio
Apart from consistent and coherent messaging on your landing page, you also need to remove distractions that can potentially affect the way your prospects might interact with your landing page.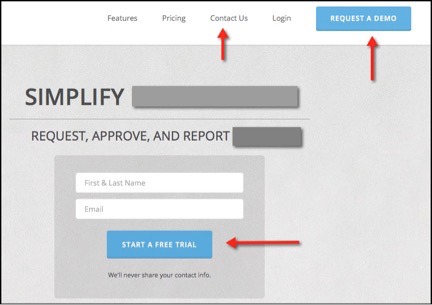 The golden rule of post-click optimization is that you should follow a 1:1 conversion ratio on your landing page.
What does it really mean?
The conversion ratio of a landing page is the number of conversion goals vs. the number of clickable elements on your landing page.
For example, if you have three clickable elements against one conversion goal (i.e, eBook download), your prospects are likely to get distracted by the two additional clickable elements, resulting in bouncing off your landing page.
This also results in a bad user experience for your visitors who accidentally click on a clickable element that doesn't fulfill a conversion goal.
Therefore, keep your landing page free from any potential distractions and make your CTA button the only clickable element in the entire landing page for an optimized post-click experience.
A Contrasting CTA Button: Make it Stand Out and Get Counted
Your CTA button is a key element in your landing page in that it can either capture the attention of your prospects or become invisible among other elements.
For a positive post-click experience, your CTA button should be clearly visible, aesthetically compelling and highly personalized to encourage your visitors to engage with it.
Every landing page is different and therefore, the CTA button should be optimized based on the other elements. However, the thumb rule is that it should have a contrasting color so as to stand out from the rest of the elements and is too visible for your visitors to ignore.
B2B content marketers should work with their design team to determine the most effective way to optimize their CTA button.
White Space: Kill the Noise
Nothing kills your visitors' post-click experience quite like a confusing, cluttered and crowded landing page.
The elements on your landing page, especially the CTA button, need breathing space so that your core message becomes very clear to your visitor.
White space, also known as negative or black space, refers to the empty space around your landing page elements so it looks clean and creates a positive user experience for your prospects.
Intelligent use of White Space can:
#1 — Improve the Readability of Your Landing Page.
#2 — Boost Visual Experience of Your Visitors.
#3 — Allow More Attention to Crucial Landing Page Elements.
Final Thoughts
Your pre-click optimization (i.e ad) is only as effective as the post-click optimization (landing page) that follows it. It doesn't matter how good your ads are unless your landing page is designed to benefit from it.
Without a post-click optimization strategy, you're throwing your marketing dollars out of the window. For every marketing dollar you spend on PPC, make sure you spend at least 25 cents (or more) on post-click optimization to boost your conversion and boost your ROI.