No matter how small or big your content marketing budget is, there's one thing you want to constantly evaluate to improve the performance of your campaign – content engagement data.
Unfortunately, it's one of the most difficult and complex aspects of content marketing game as well, especially when you have no idea what those illusive engagement metrics are, and how to measure them accurately.
In this post, I'll share a quick guide to help you understand, explore, evaluate, and use content engagement metrics. At the end of this post, you will be equipped with the knowledge to write better content for your content marketing campaign including both search and social.
So, let's dive right in.
Bounce Rate: How It Affects Your Content
Bounce Rate is the most crucial engagement metric in content marketing. It's based on a simple philosophy – if most of your site visitors spend only a few seconds on your landing page and then decide to leave without visiting any other pages, you will see a high bounce rate in your analytics.
In plain English, the content on your landing page doesn't encourage your visitors to read more and click beyond the landing page itself.
Based on the nature of your business, you may also want your visitors to take a specific action after consuming content on your landing page. It may be subscribing to your newsletters or signing up for a service. If they are neither taking the desired action nor staying on to visit other pages, you have reasons to worry.
How to Use Measure Bounce Rate
While Google Analytics is the most popular tool to measure bounce rate, experts believe the standard settings on Google Analytics might not show you the legitimate bounce rate. Therefore, you need to use some advanced tools to measure the accurate bounce rate.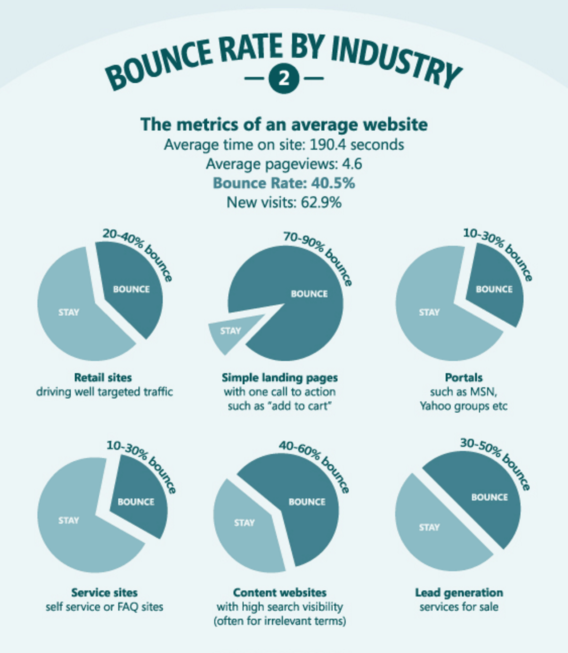 Using Bounce Rate Metrics to Improve Content
There are several variables that affect bounce rates on your website. However, more often than not, it's the content that is the main culprit. It's no secrets that high-quality content trumps everything else. Indeed, if the content is irresistible, people will overcome any obstacles to read it.
However, a B2B website is not the same as a Lifestyle Blog. Therefore, you need to consider improving multiple factors on your site to actually encourage visitors to read your content, and thereby, reduce your bounce rate.
The healthy bounce rate for an average website is 40 to 55 percent. When bounce rate goes over 60 percent, you should see which pages on your site are triggering it, and fix them.
Apart from improving the readability of your content (which is very important), you should also focus on boosting the UX of your website, i.e, making it mobile-friendly, optimizing CTAs, reducing distractions among other things.
Recommended Reading: Why Readability Matters: How to Improve Readability for B2B Audience
Dwell Time: How It Affects Your Content
Dwell time is the amount of time that elapses between you clicking on a search result and returning to the SERPs. If you click on a search result and spend 2 minutes on a website before clicking back to the SERPs again, the dwell time is 2 minutes.
Google's latest machine learning system, Rank Brain, considers dwell time as an important metric to evaluate the popularity of a page. According to Brian Dean, websites with higher dwell time tend to rank higher up on Google's SERPs.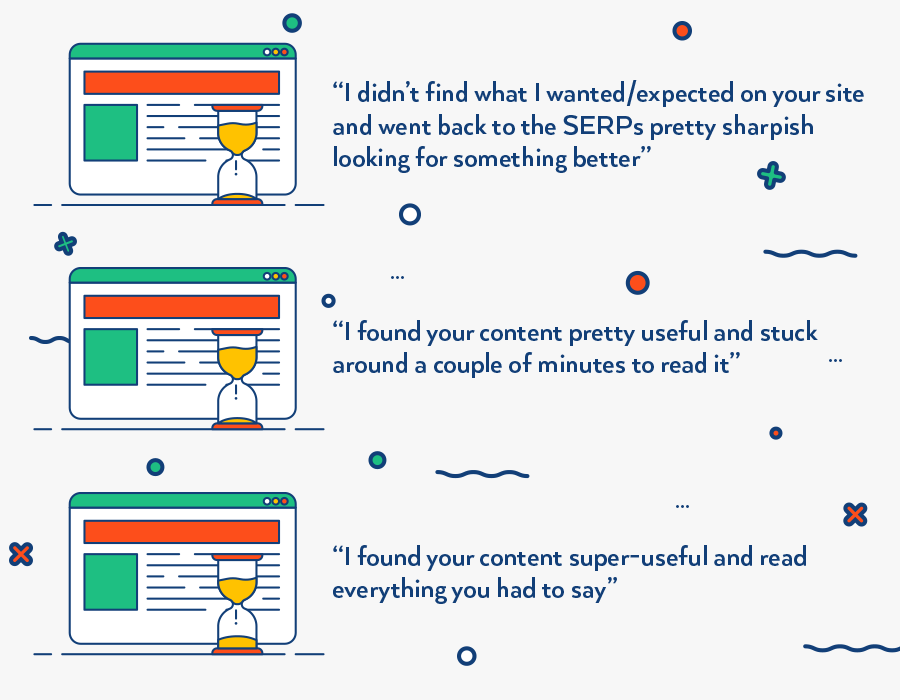 A recent Google search ranking factors study released by Searchmetrics revealed Google is putting more emphasis on the quality of your content than the volume of your backlinks. According to the study, the average dwell time for a top-ten result Google result is 3 minutes and 10 seconds.
Using Dwell Time to Improve Your Content
Dwell Time is more relevant to websites that are already ranking within the top ten results of Google SERPs for a number of queries. In other words, the only websites that are looking to outrank their competitors on the first page of Google can benefit from improving their dwell time.
There are several ways to improve your dwell time. But most importantly, you need to create better content – yes, the kind of content that matches your searcher's intent. Considering the diversity of search queries, sometimes a short paragraph is probably the most appropriate answer to a specific query. Similarly, there are in-depth guides that are the best match for some other queries.
Therefore, to secure top ranking on Google Search, all you need to do is conduct the right keywords (both short tail and long tail) and developed the great content around them.
To support your great efforts, and attract attention on Google's SERPs, write captivating meta titles and descriptions. However, don't use click baits –– they'll backfire and dwell time will tank.
Here's a great guide on how to improve your dwell time and rank better on Google Search.
Facebook Insights: How to Evaluate Your Content Performance
Just like Google Analytics, Facebook Insights also reveal a lot about the performance of your content marketing campaign. In fact, the engagement metrics of your Facebook posts offer an easier and faster way to evaluate the performance your content marketing.
Facebook considers a number of actions to determine engagement on your shared content. They include the most obvious –– likes, comments, shares –– and not so obvious metrics such as likes on comments, click on page name, and even the number of users who reported your posts. Essentially, Facebook takes into account an entire gamut of actions to establish the outreach of your posts.
There's an easy formula to calculate the exposure of your posts in terms of percentage.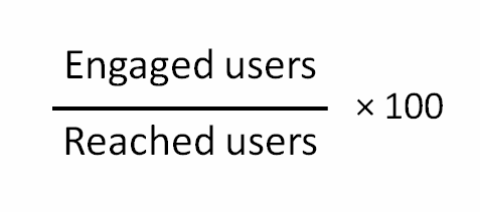 This metric will help you create a benchmark and compare the performance of all posts against the benchmark.
Using Facebook Insights to Improve Your Content
Analysis of metrics of various content pieces on your Facebook campaign will offer immense insights into what makes some posts more engaging than others.
Maybe, some posts carry a catchy headline or an eye-popping feature image? This will help you decide how to optimize your content in future and make them more engaging for your Facebook audience.
WordStream recently published an infographic on how to write better titles to increase your CTR (Click Through Rate), which applies to both social media as well as Google SERPs
Here are a few quick tips to make your headlines more attractive and click-worthy:
#1 - Use emotional hooks into your headlines. Generate anxiety, happiness, urgency, fear as the case may be
#2 - Write relatable headlines. Use words/phrases that reflect people's everyday lives.
#3 - Use Numbered Lists. Using numbers compel people to click on your titles more.
#4 - Add "Power Words" to your write compelling descriptions. Words like Amazing, Proven, and Secret can make a "World" of difference to your titles, both visually and emotionally.
Final Thoughts
Periodical analysis of your content marketing engagement metrics is crucial to your success. With the help of your this data, you're in a better position to tweak your content and improve its relevance both in the eyes of search engines as well as your users.
About the Author
Susanta Sahoo is founder and chief content marketing strategist at Top League Technologies, a digital marketing start-up in Bhubaneswar, India. By offering SEO consulting services, he helps SMB's build their online presence and boost ROI. Follow him on Twitter: @ugosus.