What is branding? It's a perception generated by creating a positive experience for your customers.
When people have positive perception about your brand, they tend to associate with your business, products, services, and even promotions, one way or the other. They become your advocate and help you stay relevant in their lives.
So how do you use content marketing to generate a positive perception for your business?
All you have to do is get into the shoes of your audience, prospects, and customers, and address their challenges. When you talk about their problems, needs, concerns, and offer them solutions, you tend to resonate with them.
According to Seth Godin, "Content Marketing is the only marketing that's left."
When you offer your audience resources that help them make better decisions, you can rest assured they're coming back to you for more.

Here's How to Create a Positive Experience through Content
Every time you create content for your marketing campaigns, take a pause and ask yourself, 'What is in it for my audience?" Let this approach guide all your efforts, starting from keyword research to creating graphics to replying to responses on social media channels.
Here are a few pointers to make your content relevant to your audience.
Write about Things Your Customers are Interested in
Begin with trying to learn more about your customers, their personality traits, their goals, their expectations, and their hesitations related to decision-making.
In order to gather this information, you need to spend time observing their behaviors across a wide range of communication channels such as emails, social media interactions, feedback on your website and any other means available to you.
Similarly, you can conduct an in-depth keyword research to list the keywords (search queries) used by your prospects to learn more about their thoughts. If you want to dig even deeper, head over to sites like Quora and Reddit, and observe the discussions around your products and services.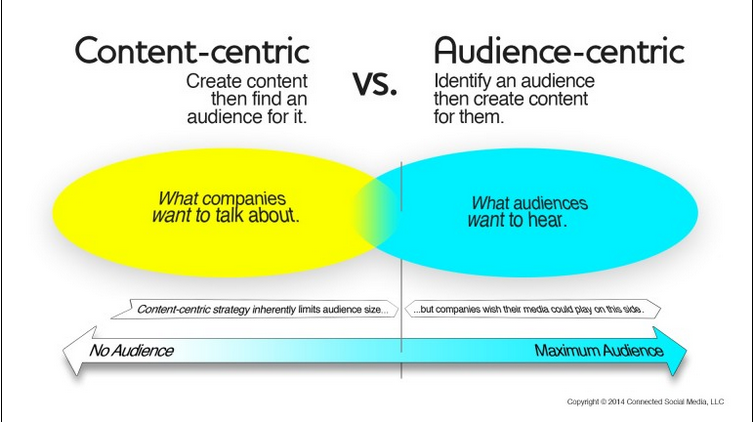 Once you have gathered the customer data, you're in a very good position to create content that is likely to resonate with your audience. In order to make your content interesting, share any positive interactions you've had with your customers. For example, you can write blog posts to tell your prospects how your customers solve their everyday challenges using your products.
Use powerful images, quotes, and graphics to bring home the message, and create an emotional connection with your prospects. Use an empathetic tone to identify with your audience and use a call to action for them.
Make It Snackable, Shareable, and Social
Understand that, at times, your prospects may be hard-pressed to read your content no matter how interesting it is. It's your responsibility to develop bite-sized, snackable, shareable and social content for easy consumption.
While creating snackable content, be sure to make it visually interesting, engaging and if possible, funny. I'm a big fan of Larry Kim from Wordstream, who uses unicorns to explain everyday content marketing challenges.
The Unicorns are spreading!! So You Wanna Be a Content Marketing Unicorn? -- https://t.co/h6DBy5i1Nc pic.twitter.com/sCcSYDb4Bl

— WordStream () September 15, 2016
If possible, break down your blog posts and start Twitter threads. Use gifs creatively and you can entertain your followers while educating them at the same time. I'm sure you can brainstorm more ideas to snackify your content and make it engaging for your audience.
Engage with Your Audience, for Real
When your content is engaging enough, your audience tends to engage with you by responding to your posts through comments and tweets. However, engagement is a two-way process. Therefore, if you want to create a positive experience for your audience, try to engage with them across all channels. Strike a balance between professional and friendly tone. Your efforts to engage with your audience pays off big time down the road and helps you build your brand gradually. More importantly, it begets thought leadership.
Stay Consistent With Your Message and Tone
Branding is also about being consistent with your content, messaging and tone across the channels. The journey of an unknown content marketer to an influential thought leader starts with consistency. Whether you're publishing two posts per week or starting a webinar every Friday, make sure to stick to the schedule, and don't let your audience down. When your content is useful, carries a unique tone, and offers exceptional value to your audience, you're a brand in the making.
Final Thoughts
Content marketing has worked wonders for many businesses and going by the recent stats, it doesn't show any signs of slowing down anytime soon. When you create a positive experience for your prospects and customers using content marketing, the rest, i.e, engagement, traffic, conversions follow on their own. That's the real power of content marketing.