Creating the "right" kind of content is often the most challenging aspect of content marketing. However, if you want to keep your audience coming back to you, and find a new audience, it's imperative to know what works and what doesn't.
In a competitive content marketing landscape, merely following the best practices might not help you sustain the audience. You should go beyond and think out of the box. This is exactly why you should focus on creating content your prospective audience is looking for.
When it comes to content marketing, you have to strike a healthy balance between evergreen content and trending topics. While evergreen content helps establish your brand authority, trending topics shows you're ahead of the curve. Creating content around trending topics helps you attract a new audience to your blog and on social media.
So, let's take a look at some of the best tools to find what's trending and how to harness them to generate interesting and valuable information for your audience.
BuzzSumo
BuzzSumo needs no introduction, especially if you are around in the content marketing industry for a while. It's one of the most popular tools for content for marketing, which helps you discover trending topics in almost any industry. Simply enter your keyword and it shows all the trending topics. If you want to find out trending topics for a given time range, you can customize your search to see the trending topics within a specific period.
Use BuzzSumo to analyze the trending topics and why they are popular. Then see how you can incorporate some of those topics into your content creation process. The good news is that you don't really have to sign up to use BuzzSumo. You can use the free version for a limited number of queries. However, you will need to signup and login if you want to use it more extensively.
Google Trends
Unlike BuzzSumo, Google Trends doesn't show you any articles for a search query. However, it shows you the popular interests around the query within a given time range. Unlike BuzzSumo which relies on social media metrics, Google Trends essentially tracks the historical search data to deliver the stats over a period of time.
Depending on the industry you're in, Google Trends can be used as a complementary tool along with BuzzSumo and many other tools to decipher trends and build a content strategy for your marketing efforts.
Epicbeat
Even as BuzzSumo offers you deep insight into the trending articles for specific search terms, it doesn't tell you the influencers that are sharing those articles. This is where Epicbeat comes into the picture. In a way, both BuzzSumo and Epicbeat are doing the same job, and their respective unique features. Therefore, you can use both to see which one works for your more efficiently.
Trendsmap
If you're local business, catering mostly to the local customers, exploring local trends can help you develop interesting content around them. However, finding what's trending in your city can be time-consuming. This is when you can use Trendsmap which offers a visual representation of Twitter trends. All you have to do is click on the map and locate your area. You can see all hashtags used by your local Twitter users. As an alternative to the map, Trendsmap also lets you choose from a list of countries and cities.
Twitter Search
When it comes to trending topics and real-time discussions, Twitter Search is arguably the best tool among all out there. Depending on your needs, you can use Twitter Search and find out what's going on around a particular topic. However, when you use a broad keyword such as your city name, the results can be overwhelming. That's when you want to use search parameters recommended by Twitter to tailor your results and filter out the unwanted ones.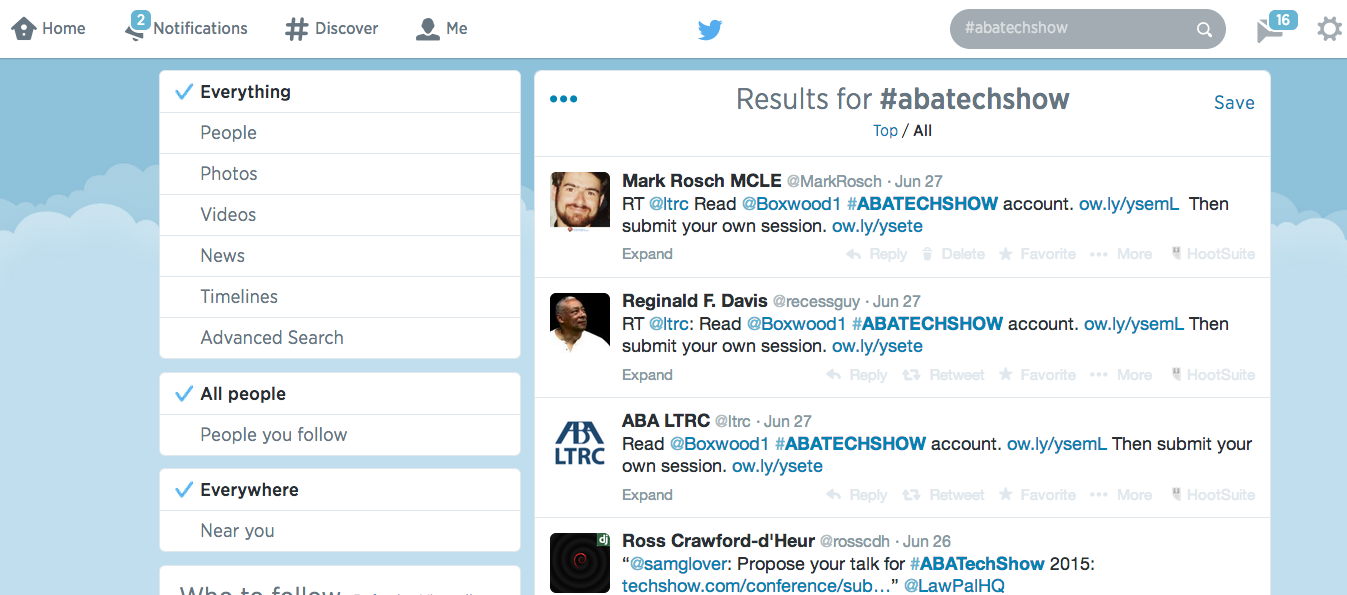 How To Create Content Around Trending Topics
Even as you have a slew of tools to track trending topics, the bigger question is how you can leverage the information to create content for your campaign.
Here are some ideas to get you off the ground.
Make it Relevant: More often than not, you're likely to come across trending topics and Twitter hashtags that are not even remotely relevant to your brand and products. However, building content around trending topics is all about creativity. For example, if you're a t-shirt brand and want to create content around "Stephen Colbert", you can still come up with titles such as "The 10 Most Outlandish Stephen Colbert T-shirts of all time". Just make sure to keep your brand and the trending topics interestingly relevant.
Don't Overdo it: Creating content around trending topics? Here's a word of caution: Don't go overboard. Trend marketing can be a double-edged sword. There are plenty of instances when brands have tried to undermine the sensitivity of the situations, and been called out on social media. Therefore, the first rule of trend marketing is to understand the sensitivity of a topic and situation.
Recommended Reading: 6 Biggest Social Media Fails in 2017
Final Thoughts
Creating content around trending topics should not be limited to writing blog posts alone. Extend your content generation efforts to creating interactive digital assets such as videos, infographics, slideshows, podcasts, memes, and share them on your social media channels.