The digital publishing industry has become more competitive than ever before. The radical transformations in technologies and change in consumer behaviors have forced digital publishers and online content creators to think out of the box, and go beyond conventional methods for a sustainable content monetization and revenue model.
Here are the top 4 challenges that intimidate your digital publishing operations, and how to get around them.
Cutting Through the Noise
One of the intimidating challenges for digital publishers is cutting through the noise. From mobile apps to smart watches, your target audience is consuming information everywhere.
The number of digital publishers has grown tremendously over the past several years, which makes it extremely hard for new entrants to carve a niche and get noticed. According to Statista.com, digital media revenue hit almost US$30 billion in the United States in 2015.
Moreover, an increasing number of digital publishing platforms means your target audience is torn between many potential choices.
Even as you optimize your platform, and invest in promotional tactics, you still need to focus on the following methods to develop a long-lasting relationship with your potential audience.
Craft a Unique Brand Voice: In an age where everybody seems to be saying the same thing, there's a huge opportunity for digital publishers if they stay focused on developing their own unique brand voice. By maintaining a clear and consistent voice, they can carve a niche for their brand and become recognizable in the crowd easily.
Learn from Your Audience: Apart from offering valuable content with a unique tone and consistent messaging, digital publishers should try to learn from their audiences and understand their exact needs from time to time. By incorporating the input into their process, they can keep on delivering better content that meets the needs of their audience.
Connect with Your Audience: One of the best ways to build a long-lasting relationship with your audience is to connect with them and value their feedback. When you allow your audience to offer their feedback, they feel appreciated and engage with your brand actively. Develop methods to let your audience have their say on your platform and empower their voice. Monitor social media conversations around your brand and industry, and offer fresh content that matches the mood of the ongoing narrative.
Improving Monetization
Gone are the days when traditional web banner advertizing used to drive revenues for digital publishers. With an increasing number of your target audience installing ad-blockers on their desktop and mobile devices, the chances of earning decent ad revenues for a sustainable business model are reducing by the day.
According to 2016 Mobile AdBlocking Report, more than 309 million internet users are already blocking ads on their mobile devices. To put that in perspective, that's a whopping 16% of the world's 1.9 billion smartphone users.
Monetizing your digital publishing operation is, therefore, calls for alternative revenue generation tactics.
Here are some ideas that popular digital publishers are adopting.
Use Donation Tools: Collecting tips or donations is an effective alternative to display ads. You can simply use one of those tools to collect donations on your site. If you have a devoted audience base who find great value in what you're doing, they will try to support your digital publishing venture. It's, therefore, important for you to stay committed to offering value to your audience.
Product Placements: If you're a popular digital publishing platform in a specific niche such as a mobile phone review blog, you will attract technology brands for product placements. A lot of websites with decent qualified traffic launch outreach campaigns to convince other companies to collaborate. The great thing about product placement is that it can have a great conversion rate if your content is focussed enough and complements your ads.
Subscriptions: There are many digital publishers, particularly news websites that hide their content behind a paywall. The loyal readers can pay a monthly subscription to read the content. While this is a great model, it also depends on the value of your content and loyalty of your audience base.
Improving Mobile Experience
According to a ComScore study, more than half of online content is consumed on mobile devices, and an increasing adoption of the smartphone means more and more people are going to consume content primarily on their mobile devices.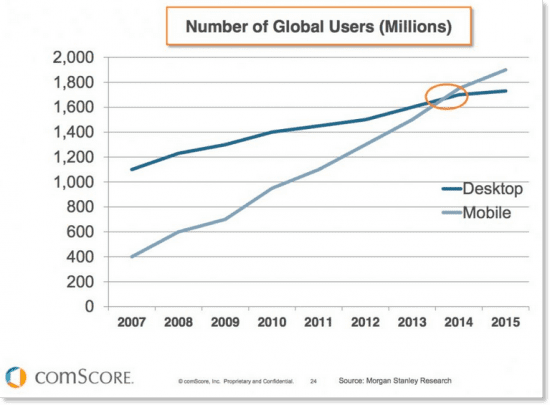 However, surprisingly, quite a few websites are still behind the trend with their website not being responsive on mobile devices. As a digital publisher, there's never been a better time to transition over to "mobile-first culture" as Google has indicated that mobile responsiveness is going to be key to your online ranking. In fact, Google has advised website owners to aim for Progressive Web Apps, meaning optimizing your website such that it offers an app-like experience when accessed on a smartphone.
Creating an excellent mobile experience is essential today, and digital publishers should consult all key stakeholders before moving ahead with it. An excellent responsive design means all your content (old and new) should be easily accessible on mobile devices.
Adopting New Technologies
With the fast-paced technological innovations, the digital publishing industry is evolving quite dramatically. The online content consumption behaviors could change with a shift in technology platforms anytime. Therefore, it's essential for you to stay informed on the emerging trends and adopt new technologies to see how they help your monetization drive and ad revenue.
For example, the modern video and multi-media ad formats are proving to be effective since they offer a more immersive experience. Newer ad formats such as bumper ads, flyout ads, gravity ads, interactive takeover ads, pre-roll ads, pushdown ads, ribbon ads and wallpaper ads are taking over the traditional ad formats.
Similarly, there are many anti-AdBlocking technologies available to combat the ad blockers.
The point is keeping tabs on the emerging technologies in the digital publishing space can help you stay ahead of the curve and keep your monetization methods updated.
Final Thoughts
The digital publishing industry is getting increasingly competitive with each company craving for attention from online consumers. However, only those staying at the top of their game will continue to win the attention from their target audience and grow their business further.